FABRICA FEATURES LISBOA features JOSHUA FEIGIN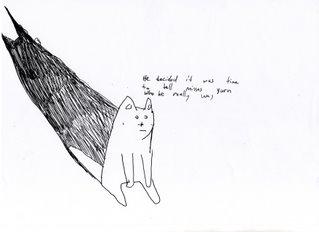 - - -
The story of Mr. Rabbit! and, Misses Yarn!
by JOSHUA FEIGIN
(Illustration)
11 - 28 November
Monday - Saturday
10h - 20h
!!! opening !!!
11 November
18h - 20h
- - -
"Joshua Feigin, a native to a little known island on the east coast of Canada, came to Portugal to do an Exchange at the Lisbon based art school, Ar.Co.
Joshua is a young, multi-disciplinary artist that previously studied philosophy. He concentrates mainly on sound, video, and drawing, and has previously had performances with his sound and video works. During his studies in Lisbon, he focused on drawing and writing, which led him to create a story, which is being shown at the Lisbon Fabrica Features Gallery.
The story deals with his love and life, using animals as metaphors and words as characters. The main characters are two animals that learn to love each other and accept themselves for who they really are. The story also addresses what identity means to an individual and how that is challenged when one meets oneself as an icon."
contact: jfeigin@hotmail.com
- - -
Labels: exposições / exhibitions